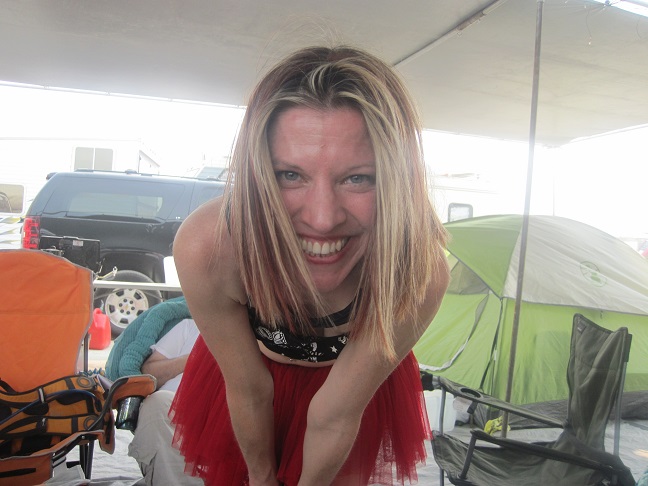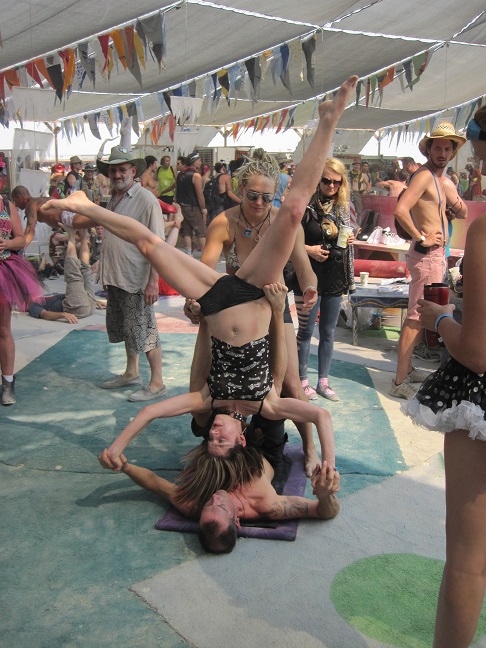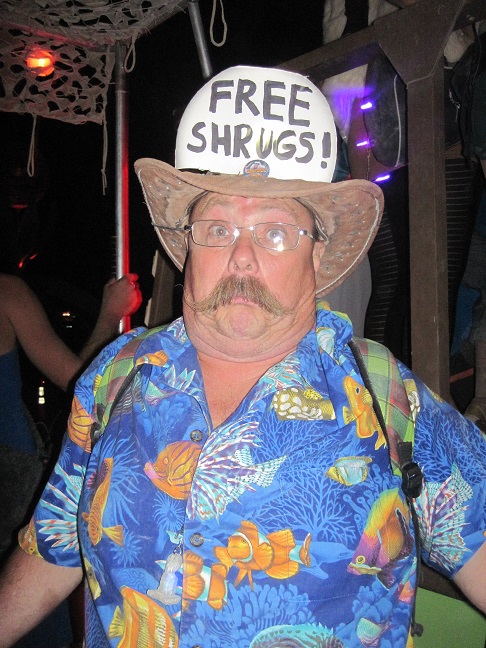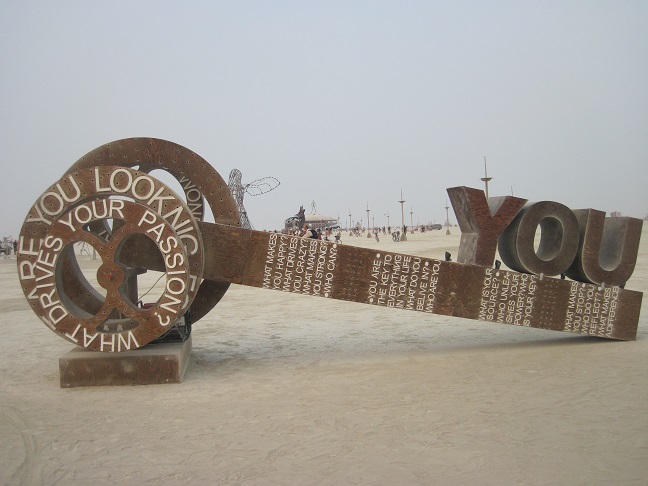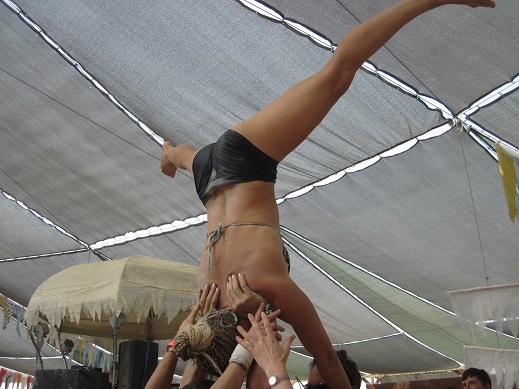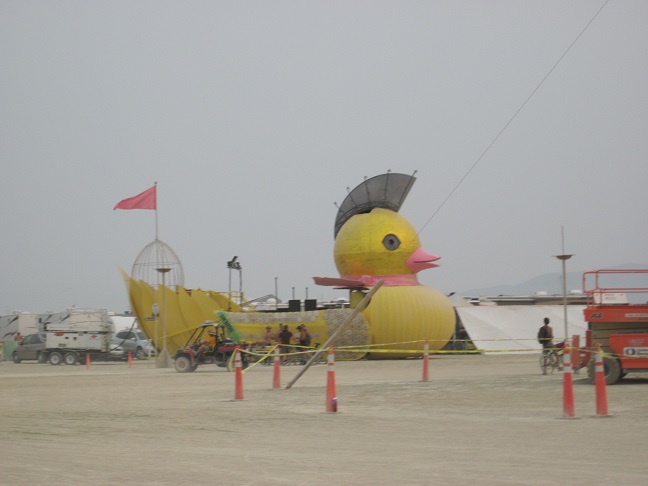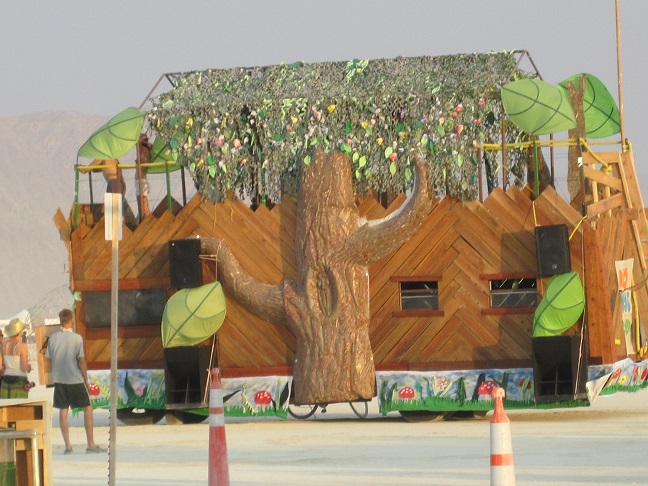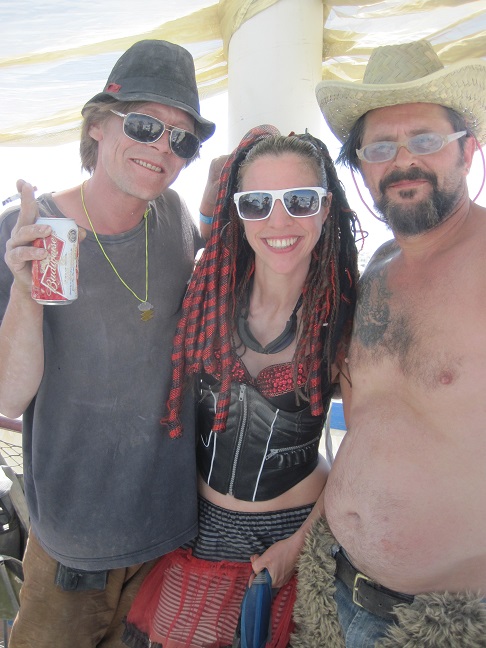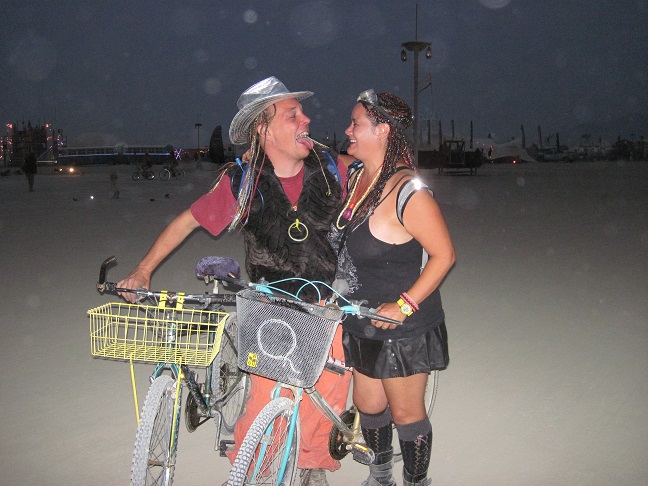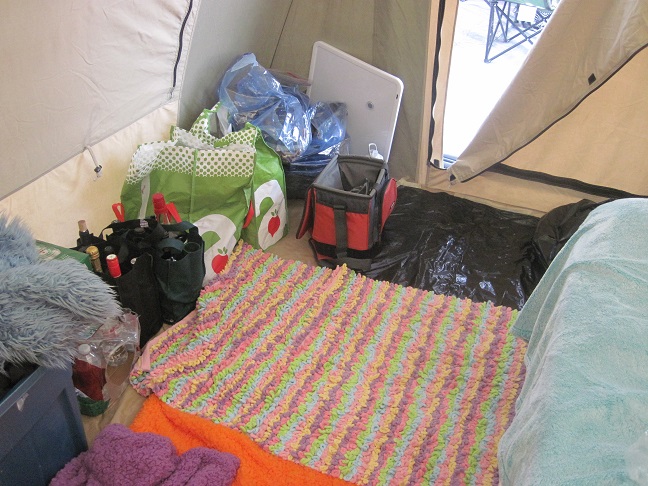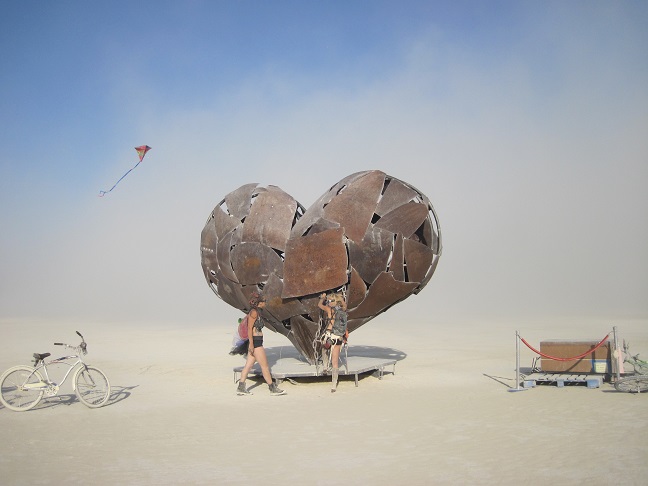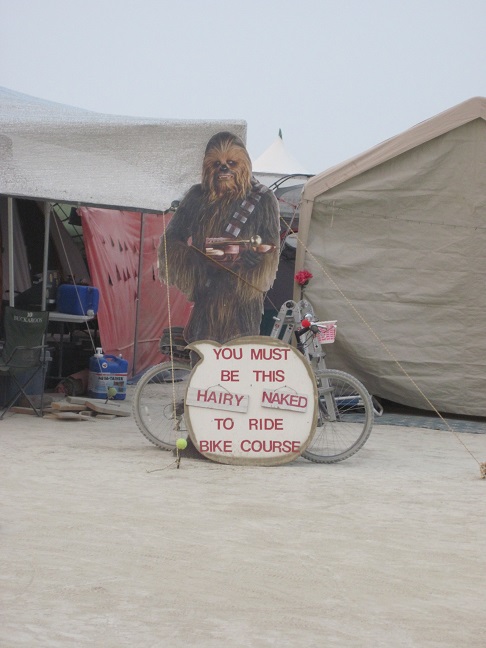 My Burn, 2013

by Ellen Cram Kowalczyk

Day 1: Saturday
Plan was to leave at 9:00am, so my bets were on 11:00am. Ran into Adrienne, a fellow camp mate, at QFC getting dry ice at 8:45am. Loaded bikes and managed to hit the road at 10:30 as part of a 2 vehicle caravan. First vehicle made it through the light at Montlake, but I didn't. Around Georgetown I realized that we'd never agreed on a route, and that they might have gone East first. Sure enough, when I was able to reach them, they were already headed toward Snoqualmie Pass. We decided both to just meet in Klamath Falls, and that we are amazing at caravanning. I grabbed some Carl's Junior in Salem, and made it to Klamath Falls by 7:00, beating them by over an hour. We met up for dinner at the Silver Cloud restaurant, which was also hosting a lumberjack convention. Then I stayed up and played with electronics in prep for a week without them (mostly)
Day 2: Sunday
We had planned to meet up at 11:00am, but we were all ready and excited by 10. We went to a local diner where they had huge cinnamon rolls and "Country Surprise". We spent far too long at Fred Meyer buying things we didn't need, then booked it to Alturas, CA to meet up with others. They were running behind, so we headed toward Gerlach, and hit the playa surface around 5:15. We watched as the BLM pulled over people for severe crimes like "blocking one's license plate with a bike". We were through the gates and looking for space by 7:30pm, but most of the spaces close in were taken, so we ended up at 8:22 and J. In order for our shade to work, we had to set it up before we set up our tents. Supposedly it takes at least 4 people to set it up, but we did it with 3. After an exhausting few hours we'd finished, our other camp mates arrived, and I nested my tent. Around 3:00am I finished for the night, hung out with campmates then joined DD and Girlfriend to watch the sunrise over the playa, which we did while chatting with two "pho lesbians" (their term) who were having a champagne picnic.
Day 3: Monday
I woke up around noon when I got boiled out of my tent. I knew a bunch of the people I know from Seattle were camped at 5:00 and G, so I attempted to fix up my bike, decided it was ok to go without breaks and with only partially installed petals, and headed over. I hung out for a while, got to see the A/C dome, and left my address for people I'd planned to meet up with at some point (on a pair of underpants I'd brought for just such a task). Then I headed over to "the Dump" a camp for a Honkfest-style band, near center camp. There I found a bunch of old friends and hung out, watching them reprogram hula hoops and debating human anatomy. I then headed to bike repair where I learned that I'd wound my break cable around the wrong way and had put my petals on the wrong sides (they are now labeled), but that you can get any bike repair you need for a hug. I ended up joining friends at the only 5 star hotel on the playa, but the combination of sleep dep and the "something with whisky" I'd ordered put me to bed by 1am.
Day 4: Tuesday
I got up as I'd made plans to do Acroyoga with a friend around 11. Around noon I headed over without him, as he was spending even more time being a princess than I did. Went to center camp where I met up with friends from SFO, ate the PBJ I'd packed, and was introduced to someone who wanted to base Acro. We played for a while, and I didn't fall on my head, which given some of the moves was rather impressive. I then was introduced to a woman who teaches Acro in Seattle, and was both hot and cool enough that I will be kicking myself to lessons on Tuesdays if it kills me. She based me for a while, then helped others do the same. My friend finally showed up looking amazing, and we practiced moves like cartwheels until I had them completely down (and I had big red marks and bruises). I headed toward home, spinning a wheel and winning a coconut full of some yummy drink on the way home. I went home, freshened up, and prepped to meet an old friend for my only pre-arranged meet up on the playa. We met at 3:00 and H, which is about as far away from my camp as is humanly possible, only to find out we'd camped 200 yards from each other. We caught up on where we are now, and determined how we move forward in the right way for both of us. Saying of the day? "Huh?? Is the new Yes".
Day 5: Wednesday
I woke up and decided that, it being "Sparkle Pony Wednesday" I should put on the most obnoxious outfit I had, which was a sort of yellow lime green. I then quickly realized that it was the color of boogers. So, I pulled out a trusty white tank top, and wrote "Show me your boogers" on it. I spent the morning giving people numerical (or sometimes non-numerical) ratings of their boogers, and I have to say that people where keeping their noses very clean that day. I was offered the most amazing salad from a group of burners who have been 18 times, and got the recipe too. I then spent a few hours in an A/C dome watching what I can only say was better than any TV. Then I learned where Diplo would be playing, figured out how to make some of the porta potties look occupied when they weren't, and got ready to head out. I made it as far as the Gate Staff camp before falling in with friends. Diplo was amazing, then we headed to the other end of the playa, picked up our wonderful sparkle pony (is it sparkle pony if it's a guy?) and went dancing. We headed out to find a party, got tired, and jumped on a bus full of people in George Washington wigs to get a ride back.
Day 6: Thursday
Got boiled out of my tent at 11, and again was trapped by the Gate Staff black hole. I'd heard a rumor that DanK was on the playa, but couldn't find him. I headed out to the temple, and as I got there a white out picked up. I walked around reading the messages and was blown away by everything there. The woman hand embroidering a picture of someone lost. The notes saying the things that people never had a chance to say. The sadness, the anger, the regret of so many. I wrote notes, to my grandfather who I now know I follow the most closely after. To someone Ella asked me to write to, even though it's early. To my darling daughter Emma, as I do every time I'm there. To those I've hurt, and one to me, to my past self that I love but want to move beyond. I left just as a memorial service started, and photographed art in the calms between the dust. After going home and cleaning up, I went and found the Tiki Tank and rode around. We went and made the monkeys spin around, played at the Charcade, and picked up a friend's dad, who was giving out Free Shrugs. At one point I jumped on the Tank and found an adorable playa virgin boy where I'd been standing. I ended up successfully "Virgin Fishing" and took him all over the playa, including to the art where you lie down and stare at the stars though white strips of fabric. We ended up a the movie theater in deep playa just as the film was starting, went to Absinthe camp where we had drinks. On the way back he actually fell for Raver Fishing.
Day 7: Friday
Woke up and went with Skinny to take pictures of him at the Insanity sign. We found ourselves in a white out but somehow still found it. Went to 5:00 and G where I dropped my bike and jumped on the Space Virgin's cloud bus. I drank whisky and hung out while we toured the back streets. On my way home I got wine and cheese, then took a nap back at camp. When I woke up I started to pack to leave in the morning, but quickly realized I should really leave that night. So by 10pm I was on the road. I only got lost twice on the playa trying to get out, but both the BLM and gate crew were nice, which was weird. I finally got to Alturas a bit after 1am.
Day 8: Saturday
I woke up earlier than expected, around 8:30, eager to get home. I quickly realized that part of the reason I'd felt a strong need to leave the playa was that I was ill with a nasty infection. I talked to the triage nurse, then headed to the ER. The cool thing about the ER in a small town is that it's generally very low key and fast, and it only took about an hour to confirm diagnosis and get me my prescription. I headed out of town with my little bottles of pills at 11:45. I made it to Klamath Falls where I got the car washed and ate, then made it about 3 hours before I absolutely had to sleep. I found a little inlet in a forest off a gravel road, and got about 30 minutes of shut eye before I woke from a crazy bad dream. I headed on to Eugene, where I was joined in my trek north by what I believe was every Oregon Ducks fan. After stop and go traffic off and on almost all of the way to Portland, I scarfed some Burgerville and made it home around 11pm.